Oklahoma authorises real-money online casino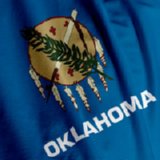 In the United States, the Cheyenne and Arapaho Tribes aboriginal group has signed a gaming accord with the state of Oklahoma that will permit the federally-recognised group to offer real-money online gaming to international players.
The agreement for a Class III gambling licence signed on Friday at the Oklahoma State Capital in Oklahoma City will see 20 percent of all revenues earned via the new PokerTribes.com website go to the state while the Cheyenne and Arapaho Tribes hopes to capture a share of the estimated $30 billion that is spent around the world on online gambling each year.
The agreement signed by first-term Republican Governor Mary Fallin does not need to be approved by the National Indian Gaming Commission, the Bureau of Indian Affairs or the Department of the Interior in order to take effect with tribal nations exempt from the Wire Act of 1961 and the associated Unlawful Internet Gambling Enforcement Act of 2006.
"The settlement agreement effectively shuts down the Cheyenne and Arapaho Tribes' online social gaming network including PokerTribes.com inside the United States in exchange for an agreement that the Cheyenne and Arapaho Tribes be allowed to operate the site internationally pursuant to international standards and each specific country's jurisdictional requirements consistent with all state of Oklahoma and United States federal laws," Janice Prairie-Chief Boswell, Governor for the Cheyenne and Arapaho Tribes, told CapitolBeatOK.
"The Cheyenne and Arapaho Tribes plan to bring this exciting new product to the international market in the very near future. We appreciate the support and cooperation of Governor Fallin of the state of Oklahoma and her staff in making this an historic day for the Cheyenne and Arapaho people. We look forward to working with the state in the future for the common good of our collective peoples."
The first of its kind gaming accord was preceded on Wednesday by the Cheyenne and Arapaho Gaming Commission approving the implementation of technical standards for the provision of online gambling to non-US customers while the Cheyenne and Arapaho Tribal Legislature approved Boswell's decision to sign the accord.
"The Oklahoma Indian Gaming Association has been informed that a member tribe has entered into an agreement with the state of Oklahoma to insure the citizens within the state cannot participate in Internet gaming off Indian lands as set forth in the Model Tribal Gaming Compact passed by Oklahoma citizens in November of 2004," Brian Foster from the Oklahoma Indian Gaming Association told CapitolBeatOK.
"The Oklahoma Indian Gaming Association looks forward to assisting our member tribes as they are joining a rapidly changing and developing international gaming industry. This is the next step in generating much needed revenue for Oklahoma tribes and the state of Oklahoma.
"I applaud the dual effort between the state of Oklahoma and the Cheyenne and Arapaho Tribes to open the pathway for international gaming. This continues an already mutually beneficial partnership that will ensure future economic growth and continued success for all citizens of Oklahoma. We look forward to adding to millions of dollars in education revenues, millions of dollars in goods and services and the over 80,000 jobs that have been created, many of which are in rural areas outside of the already blossoming metropolitan areas."