News in brief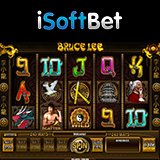 iSoftBet packs a punch with new Bruce Lee slot machine
Casino and lottery games solutions provider iSoftBet has unveiled a new online slot game based around martial arts film legend Bruce Lee.
The five-reel slot, which is unique to iSoftBet, comes with 243 individual winning combinations. It features the same audio-visual effects present in other iSoftBet offerings, and includes a number of features such as extended wilds and a large jackpot.
The new online slot game will be available in the casino arena as well as in the iSoftBet mobile games collection.
Pentasia Malta opens new office in Sliema
iGaming recruitment specialist Pentasia has expanded its presence in Malta by opening a new office in Sliema. The company has had a presence in the town of St Venera since 2006 and has wanted to expand on the island for some time.
New premises recently made available presented the ideal opportunity, Christopher Vella, Pentasia managing director, explained: "With Sliema's status as the main iGaming hub on the Island, it's always been our intention to open an office there but until recently the circumstances were never quite right. To get everything ready within the timeframe given has been a challenge and I would like to thank the team for rising to it over the past few months and completing everything on time. Now the real hard work begins as we make sure we work closely with our clients and candidates to take this business to the next level."
Microsec aims to expand online gaming platform user base
Microsec Financial Services is looking to expand the user base of its online game-based consumer connect platform Foreseegames.com in an attempt to create more revenue.
Thehindubusinessline.com reports Foreseegames, a subsidiary of Microsec, has generated around 50m rupees (US$838,351/€639,203) in revenues each month since its inception three months ago.
Foreseegames is an online prediction-based game with a user base of 60,000 people. Games are developed around different brands, allowing users to win freebies.
Although free-to-play, Foreseegames charges sponsoring companies around ten rupees for each of its games that a user plays.
txtNation completes 24Gmedia acquisition
Mobile billing solutions provider txtNation has completed the acquisition of 24Gmedia, a mobile entertainment company.
24Gmedia designs, integrates and maintains consumer-focused mobile payment apps for a number of major brands including operators in online gambling.
The direct relations and first-tier connectivity assets of 24Gmedia will extend txtNation's platform and support the firm's drive to bolster direct relations with mobile network operators around the world.
TxtNation's platform currently provides billing access to 80 mobile operators worldwide through a single application programming interface and a further 200 for messaging.
Bingo3X confirms July offers
UK online bingo website Bingo3X has unveiled a number of offers for July.
Zodiac Bingo, a game based on Zodiac signs and played every month on different dates, will take place on July 30. Players with birthdays in July will be able to claim ten free tickets to this game.
Jackpot Fiesta, a £100 jackpot game, will also be played on July 30 offering three free tickets for every deposit of £20 until July 25.
Elsewhere, the Pouch-A-Vouch room gives away free tickets on Facebook and players can win vouchers of choice. Players can still purchase tickets to enter the second game.