Fees and taxes impair bet-at-home.com annual results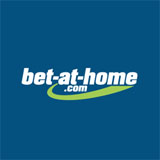 Online gambling and sportsbook operator bet-at-home.com AG has released its financial results for the twelve months to the end of 2012 showing a 17.4 percent year-on-year increase in gross gaming revenues to €85.46 million.
Part of BetClic Everest Group, bet-at-home.com stated that its betting and gaming turnover for 2012 rose by 'an above-average figure' of 14.8 percent year-on-year to €2.03 billion while its net gaming revenues improved 'significantly' by 14.2 percent when compared with 2011 to €75.51 million.
However, bet-at-home.com declared that its annual earnings before interest, tax, depreciation and amortisation fell by almost 67 percent to €1.83 million due to 'betting fees and gaming taxes' while its cash and equivalents position remained 'almost unchanged' at €39.6 million.
All of this saw bet-at-home.com report an annual result before tax of €2.27 million, which was down by 58.8 percent year-on-year, while its net profit plunged by 62.8 percent when compared with 2011 to €1.71 million.
"The significant increase of €40.81 million in advertising expenses in financial year 2011 to €50.02 million in financial year 2012 emphasises the clear commitment of bet-at-home.com to maintain its growth strategy," read a statement from the Dusseldorf-based firm.
"We see the large scale advertising activities as an investment in the future for the further strengthening of the bet-at-home.com brand. The large investments in the acquisition of new customers in the course of a major event, the 2012 UEFA European Football Championship in Poland and the Ukraine in June and July of 2012, and the intensive efforts made to reactivate existing clients at the same time [as] successfully improving efficiencies in marketing activities also led to a significant increase in customer numbers in financial year 2012.
"We now have considerably more than 3.23 million registered customers. This is a marked increase of over 19 percent or over 518,000 customers in the number of customers compared to the balance sheet date of December 31, 2011.
"From the present point of view, the board expects to further strengthen profitability for bet-at-home.com in financial year 2013."