Devilfish selling online subsidiary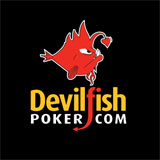 Devilfish Gaming plc, the firm behind virtual poker room Devilfish.com, has signed an agreement to sell its Devilfish Poker Limited online gambling subsidiary to an unnamed party for £330,000.
The operator, co-founded by professional poker player David 'Devilfish' Ulliott, revealed that the deal will see it receive £40,000 in cash and the balance in an issue of new ordinary shares in an acquiring company that will be traded on the London Stock Exchange's Alternative Investment Market.
"The sale has not yet been completed and is subject to satisfactory completion of due diligence and legal process," read a statement from Altrincham-based Devilfish Gaming.
"A further announcement with more detail will be made once the sale has been completed."
In a separate announcement, Devilfish Gaming has also revealed that David Boden has resigned as its Chairman with immediate effect.
"The Board wishes to thank David for his contribution to the company during his period of tenure," read a statement from Devilfish Gaming.